PUT THE DRIVER FIRST
That is the driving principle behind Precision Crafted Performance. That is what has driven us to bring together creative minds and challenging spirits to enhance the partnership between car and driver. The result is an unequaled standard assembled with unparalleled precision and unrelenting craft. It is a sensation of power and agility wrapped in purpose-driven design. It is what driving was always meant to be.
PERFORMANCE MANUFACTURING CENTER (PMC)
Before your foot hits the gas, before you even step inside, the performance has already begun. At the Performance Manufacturing Center, our engineers build openly and efficiently, designing their own workstations and programming their own assembly bots. This ensures every Acura is precisely engineered – with a good dose of human common sense.
PROOF IN PRACTICE
Innovation is our obsession. You can see it across our entire model line. Every refinement, every tweak, every fine-tune results in better performance on the road.
SPORT HYBRID PERFORMANCE
We saw a better path for hybrids and took it, first engineering the NSX to deliver better fuel efficiency ratings without taking the foot off the gas, exhilaration-wise. Our revolutionary Super Handling All-Wheel Drive™ (SH-AWD®) system is combined with an electric Twin Motor Unit (TMU), engineered to independently distribute torque to each rear wheel (front on NSX) for athletic acceleration and on-rails handling.
SUPER HANDLING ALL-WHEEL DRIVE™
Acura engineers set out to bring the torque-vectoring technology of track vehicles to the street. That's how they built the revolutionary all-wheel drive system that strategically distributes power among the wheels for a performance gain that you can truly feel. Today Super Handling All-Wheel Drive™ (SH-AWD®) is available on the NSX, TLX, MDX and RDX models.
ENGINEERING HIGHLIGHTS
Notable milestones in a legacy of performance-focused engineering.
Intelligent Variable Valve Timing and Lift Electronic Control (i-VTEC®) increases horsepower by advancing valve timing relative to engine RPM.
Variable Cylinder Management®
VCM® improves V6 fuel efficiency by running on three cylinders during highway cruising.
Drive-by-Wire Throttle System™
The system varies throttle sensitivity to provide the appropriate response and feel to different driving conditions.
Sport Hybrid 3-Motor System
Our exclusive drivetrain system uses electric power to improve efficiency, acceleration and handling.
10-Speed Automatic Transmission
Acura's 10-speed automatic transmission, with Sequential SportShift and standard paddle shifters, takes full advantage of both turbocharged engines' high-torque output, offering a wider ratio range, more discrete gears, four-gear direct downshifts and a lower first gear compared to the previous 9-speed automatic and 8-speed DCT.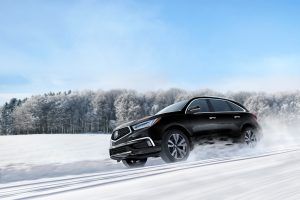 Super Handling All-Wheel Drive™ (SH-AWD®)
SH-AWD® greatly enhances high-performance dry-road handling with the all-weather advantages of conventional all-wheel drive.
Sport Hybrid SH-AWD®
The SH-AWD® effect is enhanced by twin electric motors to distribute torque for on-rails handling.
Active Damper System
Our Active Damper System adjusts to road and driving conditions every few milliseconds.
Agile Handling Assist
Braking individual wheels helps you smoothly and easily trace a desired line through a curve.
DOUBLE WISHBONE SUSPENSION
Making a return on the 2021 TLX, the two wishbone-shaped control arms offer more precise control of the wheel chamber and enhance tire-to-ground contact for exceptional handling and cornering grip.
ACE™ Body Structure
Our Advanced Compatibility Engineering™ body construction is designed to help reduce and disperse force in frontal crashes involving virtually all car sizes.
Multi-Material Space-Frame
The second-generation NSX goes beyond the all-aluminum space-frame of the original, using a breakthrough combination of materials for structural safety and handling performance.
Ablation Casting
Ablation casting combines the strength of forged aluminum with precise, complex shape-forming capabilities.
3D Bent-and-Quenched (3DBQ) Fabrication
Three-dimensionally-bent-and-quenced ultra-high-strength steel tubing forms the upper portion of A-pillars and roof rails.
We don't just talk power and precision, we put them to the ultimate tests. From sand to snow to the shake room, we put our vehicles through countless hours of some of the harshest conditions we can throw at them. Spoiler alert, they passed.